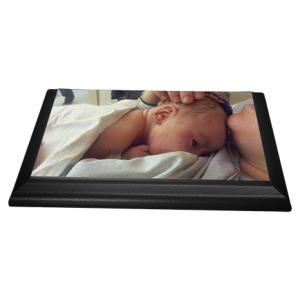 Black Edge Wall Plaque
Your browser does not support HTML5 Canvas. Please use either Chrome, Firefox, Safari, Internet Explorer 9 or newer.
Custom Product Builder is not yet supported on mobile phones. Please check it on your computers or tablets.
Black Edge Wall Plaque
Design yourself your Customizable Black Ogee Edge HD Photo Wall Plaques!
Use your creativity and your most beautiful family or baby pictures to create your one of a kind HD Photo Wall Plaque.
Printed by high quality dye sublimation HD photo printing, a high definition and very durable printing process.
Our HD Photo Plaques and signs are specially made to be high temperature dye-infused with your digital creation giving gorgeous and durable results where all the high definition vibrant colors details gets trapped inside the specially designed wall plaques surface.
Black Ogee Edge Photo Wall Plaques
- Model: Rectangle Photo Wall Plaque
- Overall Size: 6'' x 8'' / 152.4 x 203.2mm
- Image Size: 4.875'' x 6.875'' / 123.8 x 174.6mm
- Finish: Gloss
- Material: MDF
- Thickness: 0.625'' – 15.8mm
- Edges Color: Black Ogee edges
- Features: Horizontal and Vertical double Keyholes for wall display
Proudly personalizing our Quality Picture Panels and wall plaques in our Canadian facilities!
Tags: black , edge , wall , plaque , photo , pictures , frame