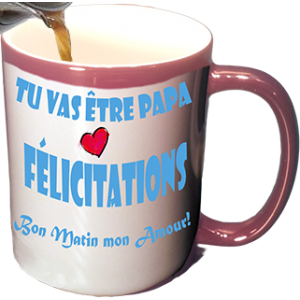 Heat Reactive Magic Mugs
Your browser does not support HTML5 Canvas. Please use either Chrome, Firefox, Safari, Internet Explorer 9 or newer.
Custom Product Builder is not yet supported on mobile phones. Please check it on your computers or tablets.
Heat Reactive Magic Mugs
Design your Personalized Photo Magic Mug Yourself!
Custom photo mugs are perfect gifts ideas for any occasion and a Magic Mug makes an eye catching totally unique custom present.
A great way to create a really special and unique gift by adding an extra funny touch to your mornings!
Magic Mugs are always enjoyed by everybody, little ones and olders will smile looking at your creation slowly appearing!
Personalisation almost invisible When cold, the heat from your favorite beverage will show the high definition colors of your creation.
Customization done by high quality dye sublimation HD photo printing, a high definition and very durable printing process.
Size: 11 or 15oz
Material: Ceramic
Color: Black or Blue
Model: Heat Reactive Color Changing Photo Magic Mugs
Printable area: All-around or 2 zones
* Hand wash only product to preserve the reactive finish, dish washer not recommended. 
Proudly personalising our Quality Custom Mugs in our Canadian facilities
 
Upload your high resolution pictures or use stock ones available.
Add text and edit your photo montage to personalize your unique animal photo mug.
High quality custom mugs Canada!


 
Tags: heat , reactive , ceramic , magic , mug , color , changing , photo