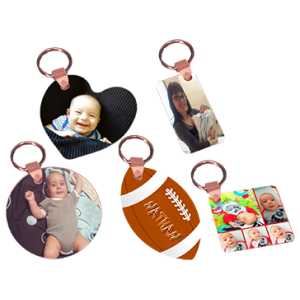 Plastic Photo Keyring
11.99$

2 or more 9.99$
3 or more 8.99$
Your browser does not support HTML5 Canvas. Please use either Chrome, Firefox, Safari, Internet Explorer 9 or newer.
Custom Product Builder is not yet supported on mobile phones. Please check it on your computers or tablets.
Plastic Photo Keyring
Design your own High Definition Photo

Personalized 

Keyrings yourself!
Create your high quality customizable promotional HD Keychains with your logo design for business promotion.
Keychains are also perfect and gorgeous high definition custom school bags or luggages ID Tags personalized with your preferred travel pictures, your creativity is the only limit!
Upload your most beautiful souvenir pictures to design your own high definition souvenir photo personalized keyring for a birthday, Christmas or a birth, new parents absolutely loves our customized photo keyrings!
Customization done by high quality dye sublimation HD photo printing, a high definition, beautifull, UV resistant and very durable printing process.
Our HD Photo personalized Keyrings are specially made to be high temperature dye-infused with your digital creation giving gorgeous and durable results where all the high definition vibrant colors details gets trapped inside the specially designed aluminum customizable Keychain surface.
HD 

Plastic 

high quality 

personalized

 

P

hoto 

Keyrings!
- Model: HD personalized Keyrings
Rectangle:    3'' x 1.25'' / 76.2 x 31.7mm

Heart:           2.5'' x 2.25'' / 63.5 x 57.2mm

Football:       3'' x 1.87'' / 76.2 x 47.6mm

Round:          2.5'' / 63.5mm

Square:         2.25'' x 2.25'' / 57.2 x 57.2mm
- Double sided printed 
- Material: Durable FRP Fiber Reinforced Plastic
- Thickness: 0.09'' / 2.29mm 
- Finish: Gloss
Proudly Customizing our Quality Photo Personalised keychains and pendants in our Canadian facilities!
Tags: Plastic , Photo , Keyring , keychain , personalized , id , tag , bag