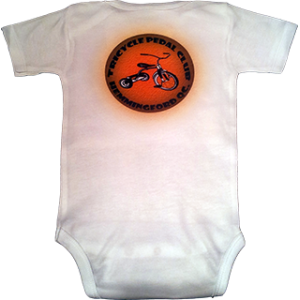 Tricycle Pedal Club Onesie
Brand:

-

Product Code:

TricycleClub
Your browser does not support HTML5 Canvas. Please use either Chrome, Firefox, Safari, Internet Explorer 9 or newer.
Custom Product Builder is not yet supported on mobile phones. Please check it on your computers or tablets.
Tricycle Pedal Club Onesie
Create your own Custom Tricycle Biker Club Baby Onesie.
Make your own high quality HD Custom Onesie for your little Biker Baby!
A high quality, durable and lightweight Polyester Photo Onesie, perfect for keeping Baby dry and comfortable.
Personalize your Biker Baby Onesie with your Little One personal information and picture on front and your location on the back logo!
Customization done by high quality dye sublimation HD photo printing, a breathable, high definition, UV and wash resistant very durable printing process.
Our High Quality Onesies are specially made to be high temperature dye-infused with your digital creation giving gorgeous, breathable and durable results where all the high definition vibrant colors details gets trapped inside the specially designed 100% Spun Polyester fabric.
- HD Vivid Colors and Long Lasting High Quality Sublimation Printing.
- 100% Moisture Wicking Spun Polyester
- Lightweight and comfortable.
- 3 to 18 months Sizes
- White
Proudly Customizing our High Quality Onesies and Custom Gifts in our Canadian facilities!